Heartbreak as England Bow out to Japan
Whatever team you root for, tonight your heart must go out to England defender Laura Bassett whose lunging touch in added time ended up in her own goal, sending England home and Japan on to the World Cup Final Sunday against the U.S.A. with a 2-1 win.
Bassett's own goal hushed the crowd, putting something of a damper on the win by the defending champions, who were outplayed by England for vast stretches of tonight's semifinal match.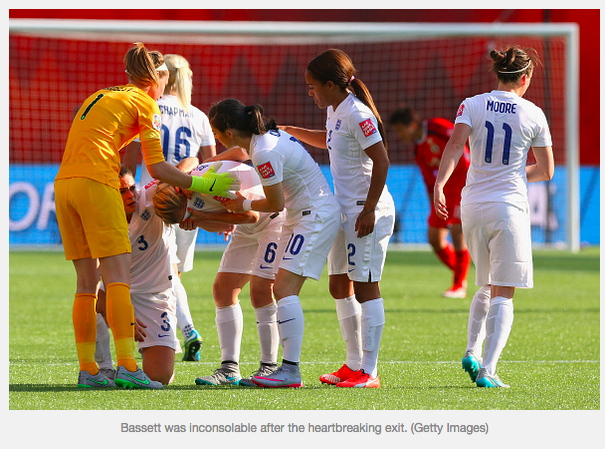 England showed no fear against the defending champs, coming out aggressively creating a chance in the first minute when Jodie Taylor came close.
Until that shocking ending two referee decisions looked set to be the talking points as the game seemed headed inevitably toward extra time.
Japan were the beneficiaries of the first call, a 31st minute foul committed by Claire Rafferty on Saori Ariyoshi. Rafferty clearly pushed Ariyoshi in the back, but just as clearly that push was initiated outside the 18 yard box.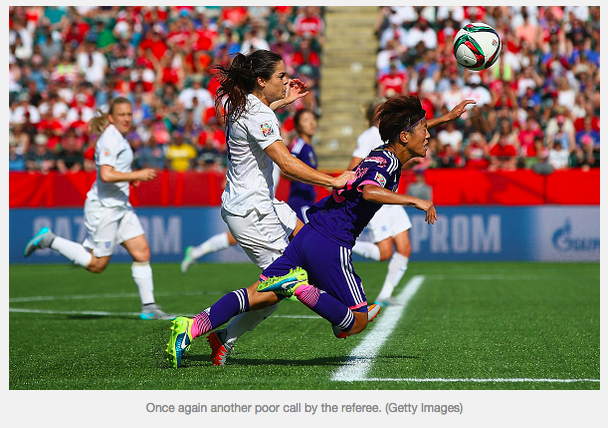 But like Carli Lloyd last night, Japan's Aya Miyama was rightly unconcerned about the justice of the call and banged home her penalty kick home accordingly.
Japan might have been expected to take over at that point, but England weren't ready to concede. Fara Williams and Toni Duggan were pushing forward as England fought for an equalizer.
With England swarming the second pk of the match was awarded when the Three Lionesses' captain Steph Houghton went to ground under slight contact on a call that could have gone either way.
Like Miyama, Fara Williams made no mistake with her effort and the game was level after 40 minutes. That would be the halftime score after what had been a somewhat sluggish opening 45 minutes.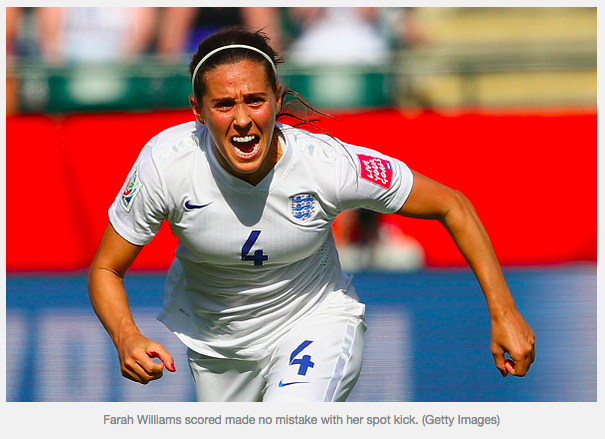 That sluggishness might have been explained when FoxSports reported that the temperature on the field was 120 degrees. This despite a temperature in the 70's at Edmonton's Commonwealth Stadium.
England subbed in Ellen White for Jodie Taylor at the hour mark and almost had a breakthrough in the 62nd minute when Duggan rattled the crossbar. White came close with a powerful shot two minutes later, but the draw held.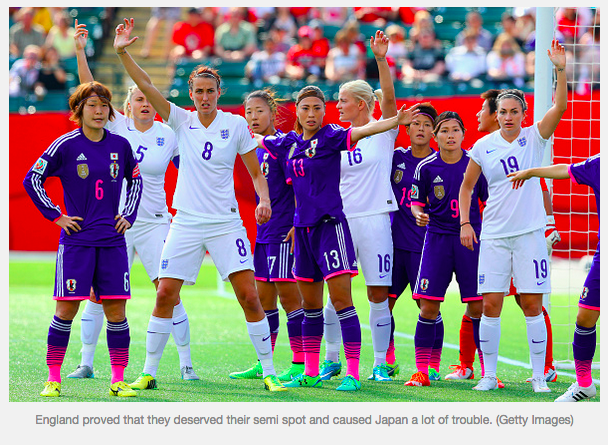 The action was almost all going England's way before Japan introduced Mana Iwabuchi in the 70th minute. Iwabuchi immediately provided Japan with a threat on the left wing, waking up Japan's attack in the process.
But Japan's star player Miyama had spent too much of the match isolated on the left wing, making for a quiet night for England keeper Karen Bardsley.
England turned to Karen Carney in the 85th minute, a move by coach Mark Sampson that looked like one for extra time.
But then fate, and Laura Bassett's misplaced foot intervened and extra time never came. England were cruelly eliminated, and Japan defense of its World Cup title was still alive.